Providing new services in your cafe can be an excellent way of maximising your income, and offering a range of party catering options works well. All types of parties, from a 5th birthday party to a firm's Christmas party can be arranged, but you may prefer to concentrate on celebrations that will appeal to your usual clientele.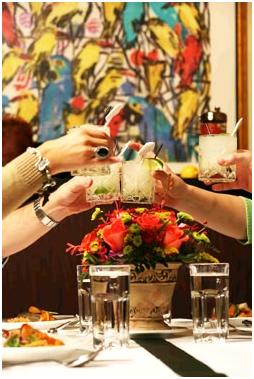 Adult Parties
Special birthday parties are often hosted in catering establishments rather than at home. Work out a few interesting and imaginative menus that you will be able to offer, and ensure there is something suitable for different budgets. If you need help with costing, The Caterer offers some helpful advice.
Buffets are often preferred, and will mean that you do not need the same number of waiting staff. An attractively presented buffet table can set the scene for a memorable party and allows people to choose the options they like. Remember to label any foods that may contain allergens very clearly, and if your guests include older people or other 'at risk' groups, avoid foods made with raw eggs such as tiramisu or mayonnaise because, according to the NHS website, they should only eat fully cooked eggs.
In addition to the food, don't forget a range of drinks and even if you normally supply cans or bottles you may find it more convenient to use a draught soft drinks supplier for your parties.
Birthday Parties for Children
If you offer birthday parties for children, your prices should include any extras you supply such as party bags, entertainers or activities. Themed parties are popular; princesses and pirates never go out of fashion or you could theme parties on popular films or TV characters. Buffets are less likely to work well, especially with younger children, and it makes sense to provide menu options suited to children of different ages, for example pizza and potato wedges for the older ones. Many operators charge a flat fee plus so much per child. Remember to budget for decorating the venue and tidying up afterwards. You could contact Empireuk a draught soft drinks supplier for the drinks to make sure you have a good variety.
Offering a range of party options in your cafe can make sound financial sense, and can help to keep the cash flowing at quieter times of the year.