Samsung will have a Galaxy Note 7 model. According to the new reports this smartphone is rumored to follow the Galaxy Note 5. It will feature a 5.8-inch QHD display, which will have a dual-curved screen, 6GB of RAM and a 4000 mAh battery. 12Mp  dual camera setup that sounds like a great number.
Bigger Display
Samsung Galaxy Note 5 launched with 5.7 inch display, Now the Korean company planning to increase the size of the display. The Galaxy Note 6 expected to come with a 5.8 inch SuperAMOLED display with Quad HD screen resolution. However, the first rumors about the device speak of a "Slim RGB" screen. Finer screen and look's very attractive design, Bigger display that allows more room for the battery. Note that the first images and rendered pictures of the Galaxy Note Edge 6/7 are available. The new galaxy Note 7 featuring S Pen stylus, we have seen 4k resolution on Sony Xperia Z5 Premium.
It also comes from having the dimensions of the device, only 7.8 mm thickness, 153 mm high and 74.5 mm wide, smaller than the Note 5, but comes with bigger display and quality screen resolution. Note that recently leaked images suggested that Smartphone will have a curved display that which will be available in Samsung stores.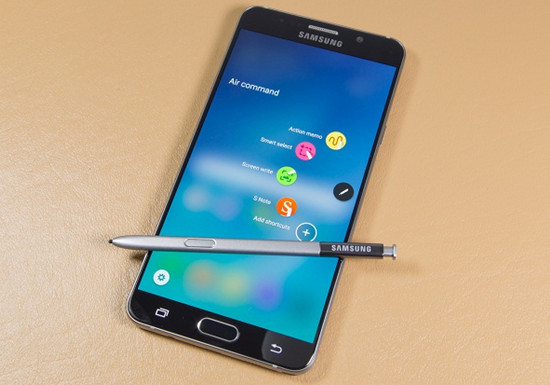 Dual Camera setup with Laser Autofocus
The Samsung Galaxy Note 6 will feature the same Dual Pixel camera sensor as the Galaxy S7. 12 megapixels, large photosites 1.4 microns, PDAF, OIS and a wide aperture of f / 1.7. In addition, for its next PHABLET, Samsung will have a little bonus, a laser autofocus.The report also mentioned the presence of OIS technology Super Plus, an enhanced version of the traditional optical stabilization. One of the excellent feature on high-end smartphones.
IP68 certification, This device can swim with you
Like the Galaxy S7 and S7 Edge, the Note 6 devices have been certified by the IP68 protection, It can withstand up to 30 minutes at a 1.5m depth in water. One feature that seems to be greatly appreciated on both models released in March, Samsung therefore has everything to gain.
Snapdragon 823 CPU and 6GB of RAM
Samsung Galaxy S7 equipped with a Snapdragon 820 processor, the Galaxy Note 6 will be equipped with a Snapdragon 823, a much more powerful version. Updated processor for QUALCOMM company, Adreno 530 GPU, Octa-core processor clocked at 2.6 GHz. While the other side LG G5 in 2016 features a Snapdragon 820 processor. Note that a Galaxy Note 6 Lite powered by the Snapdragon 820 processor coupled with 4 GB RAM.
This year 4GB RAM gradually arrives on smartphones, we have seen 3GB RAM on last year devices, the Galaxy Note 6 will offer huge 6 GB of RAM for an unlimited multitasking. In addition, upon its release in 2013, the Galaxy Note 3 was the first smartphone equipped with 3 GB of RAM, so it is not surprising that Samsung decided to raise again RAM size on its Note 6.
4000 mAh Battery and 256GB Storage
The next flagship from Korean company equipped with a 4200 mAh battery. This is a little more added power than the Galaxy S7 Edge equipped with 3600 mAh. Knowing Smartphone will provide two days battery standby under mixed use.
According to the leaked report from Weibo says that Samsung planning to launch the device with 256 GB of internal memory. With such capacity there is no worries about the data storgae in your smartphone, you can take as many pictures when you want, And a better support to the 4K video recording.
Smartphone expected to come with a Google latest operating system Android N, Also  Samsung imported some Iris scanners into India for testing. you make payments by scanning your iris.