Are you offering services for website designing/ development? Then reseller hosting is the best choice for you to help your clients with some additional services. Yes, it is possible to make money with MilesWeb reseller hosting and include web hosting to your list of services.
Web developers and designers are expanding their business by grabbing this opportunity to become a reseller hosting provider. They are taking this wise decision to add another source of income and help their clients get all services in one place. This boosts their growth in this competitive industry and earns a more financial profit.
A reseller hosting plan lets you rent out a portion of server space from your hosting provider and then resell it to your end users. You can share a portion of your bandwidth and disk space as if it is your own hosting. MilesWeb provides linux reseller hosting and windows reseller hosting that meet the objective of small medium enterprises that setups websites for their customers.
Under your own MilesWeb reseller account you can create sub-accounts which run as individual accounts that will have separate email accounts, disk space, bandwidth and control panel. A single WHM panel is used to manage these sub-accounts whose access remains with the reseller account owner.
MilesWeb Reseller Hosting for Web Developers
It's a pretty tough job to pick a reliable web hosting provider in India. It's even more confusing when it comes to choosing the best reseller hosting provider, because it impacts your clients as well. Your brand reputation is in the hands of your reseller hosting provider. This is also going to be a long-term decision as you cannot switch your reseller provider every now and then and this is why this decision is so important. MilesWeb, no doubt is the only hosting provider that will meet all your reseller hosting requirements and is reliable.
MilesWeb provides reseller hosting plans at economical prices with tremendous performing memory caching that helps in making the website load quickly including SSD storage this all together results in exceptional performance of your website.
Not only this, MilesWeb has a skillful support team that operates round the clock. They are tech-savvy, well- trained and friendly to their customers. They pursue complete technical knowledge about web hosting, servers, operating systems along with networking. They guarantee an uptime of 99.95% with a top-notch level of service. Their tier-3 and tier-4 data center lets them maintain their excellent uptime for your website.
Let's Take a Look at the Features of MilesWeb Reseller Hosting
White labeled
The ability to re-sell another hosting company's services with your own branding is known as white labeled hosting. It allows you to act just like your own web hosting company and sell the hosting services. If you are a developer/ designer with your own agency, this is the best way to serve your clients with hosting services. It is an ideal choice for the ones who want to host site with a different cPanel for different clients.
You can add your own logo under your MilesWeb reseller account on all of their reseller hosting plans. With this type of liberty, you can re-sell their hosting services under your brand as if it is your own hosting company. You can get the technical support from MilesWeb in case of any necessities.
Blazing fast SSD storage
To provide you with a blazing fast server speed, MilesWeb servers are accomplished with highly performing SSD drives. A solid state drive is much rapid and better than the traditional hard drive.
To boost up the data transfer speed in SSD the memory is stored using spinning drives. There is no mechanical arm unlike the traditional hard drive; also the data is stored in microchips making them faster.
Free Web Host Manager
To manage multiple cPanels accounts without any hassle, MilesWeb gives you a free tool with admin access with a backend of cPanel. This makes it easy for you to change client usernames, domain names, reset passwords, check server information, status and much more.
This tool is free of cost and with a user-friendly interface that lets you manage reseller accounts from one single account.
Free Domain Reseller
MilesWeb gives you the opportunity with its domain reseller account to sell over 400 extensions and TLDs. Through their customizable tools, it's pretty easy to sell domains. You can start selling domain registrar at your own pricing with your brand name. Without any additional charges you get all the necessary things that you need for a domain to sell, rest of the backend will be taken care by MilesWeb
Data Center Choice
Picking the data center for your website is an important factor while setting up your website. You must be aware of the recommendation that any web host gives- to choose the data center near your geographical location. Because a data center that is nearest to the visitor's location will serve the best performance to your end clients.
With MilesWeb, you can choose your data center location among India and US for your reseller hosting.
Plans and Pricing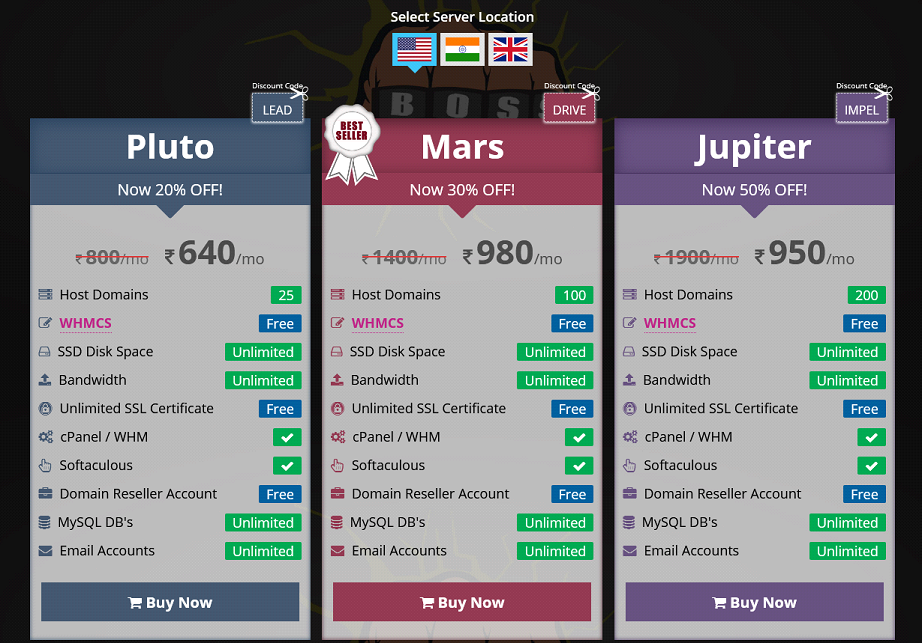 MilesWeb has come up with its most affordable plans for its reseller hosting services. The basic plan of MilesWeb Unlimited Hosting Plan namely, Pluto starts with the price at just Rs.800 for a month. Mars Plan for Rs.1400/mo and Jupiter Plan at Rs.1900/mo. Currently, MilesWeb has come up with huge discounts with their reseller hosting plans after which the prices are Rs.640/mo, Rs.980/mo and Rs.950/mo respectively for the plans mentioned above.
Pluto Reseller Plan- In this plan you get free WHMCS along with free SSL certificate and free domain reseller account. Additionally, it also includes unlimited disk space, unlimited bandwidth, unlimited email accounts and unlimited MySQL DB. You can host 25 domains within this plan.
Mars Reseller Plan – Get access to unlimited disk space, unlimited bandwidth, unlimited email accounts and unlimited MySQL DB. Along with free WHMCS along with free SSL certificate and free domain reseller account. In this plan, you get to host 100 domains.
Jupiter Reseller Plan- Along with all the features given with Pluto and Mars, Jupiter Plan lets you host 200 domains for your reseller account.
Summary
Starting a web hosting company can be time taking and which requires special knowledge of servers and hardware. The end users demand free technical assistance with 24 hours support and sales experts to answer their sales queries. Without all these, you may not be able to fulfill all the requirements of your clients.
To help you achieve your online dreams MilesWeb reseller hosting plans let you utilize their web hosting plans by giving you server space and all the required resources. All the sales and technical queries will be handled by their team. With MilesWeb you can be stress-free from buying costly servers and setting up a dedicated team. No matter what size the business is MilesWeb offers you all the hardware your end user needs.