Having a powerful camera, with smart features, is an important consideration for many when buying a Smartphone. Thankfully, both Samsung Galaxy S6 and Apple iPhone 6 have done an incredible job with their cameras, ensuring a fantastic experience capturing lifetime moments.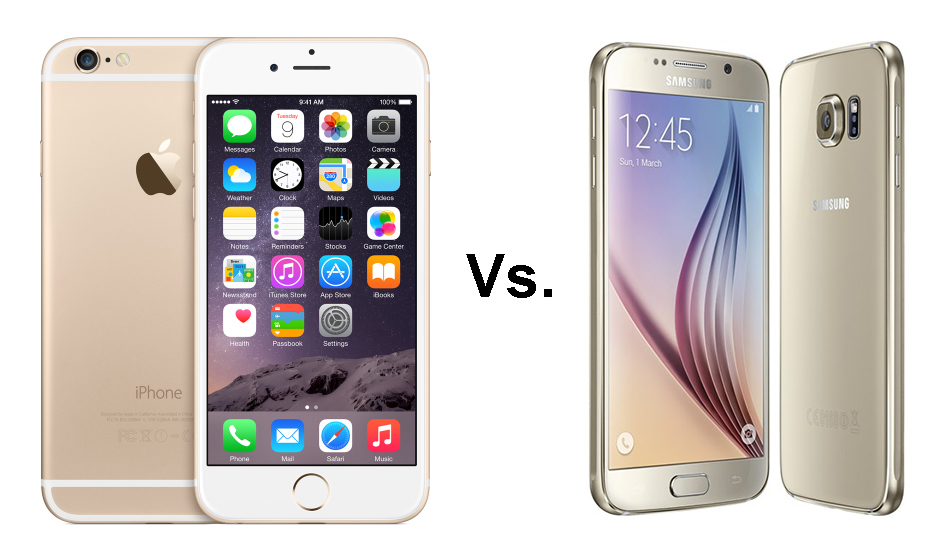 Samsung Galaxy S6: 16-megapixel rear camera, 5-megapixel front camera, single LED flash, super-fast Auto Focus, optical image stabilization 
iPhone 6: 8-megapixel rear camera, dual LED 'True Tone' flash, improved noise reduction 
Samsung inevitably steals the show with its 5-megapixel front camera that is perfect for taking stunning 'selfies.' The 16-megapixel rear camera also lets you capture the best of your world and record videos in HD. The best thing is that it takes only 0.7 seconds to launch the camera that lets you capture precious moments on the go. It comes with a bigger f1.9 aperture, though it is comparatively lesser than what iPhone 6 offers. The Optical Image Stabilization and Auto Focus function lets you capture every moment with sheer brilliance, even in poor light conditions. 
It may not boast of a front camera, but the 8-megapixel iSight camera of iPhone 6, with a shopping f2.2 aperture and 1.5 π pixels ensures the best-ever photography and video recording experience. Added features like improved face detection, Focus Pixels, exposure control, and Optical Image Stabilization promises an enhanced experience with your phone. Simply click photos and let your iPhone do the rest. It also lets you shoot fantastic 1080p HD videos at 60fps and even capture slow-motion videos or create time-lapse videos for the first time ever.

Samsung has been successful in delivering the same premium feel as the iPhone 6. Galaxy S6 ditches the plastic look and adopts a stunning glass and aluminum finish, with curved edges, which deliver the aesthetic appeal of iPhone. It is slim, sleek and seamless, meticulously crafted to be ultra-thin. In fact, it is the thinnest ever Smartphone from Samsung. The radiant glass surface, edged curves and vibrant colors add to the beauty of the phone. 
To take photos in challenging light conditions, S6 is the choice. However, for superb image quality, iPhone 6 is the one for you. 
Battery Life: 
Samsung Galaxy S6: 2550 mAh non-removable battery, wireless charging 
Apple iPhone 6: 1810 mAh non-removable battery 
When comparing battery life and charging capacity, S6 is a clear winner. Not only it ensures improved battery life and longer talk-time than iPhone 6, but also provides ultra-fast charging capability. Samsung's fast charging technology helps you to reach 100% of charging in just one hour and twenty minutes, while iPhone takes around 3 to 3.5 hours. Moreover, Samsung offer wireless charging feature that lets you charge your phone quickly even on the go. The power saving mode automatically shuts-off battery-draining features and apps so that you can push things a little more. Such features aren't yet available with iPhone 6. 
Compare Galaxy S6 Edge Deals and Galaxy S6 Best Deals at Bestdealsgalaxyphones.co.uk.