Magento is now considered as the best option for e-commerce platform to build up a properly working website as now more than 85,000 brands are using it. No doubt Magento is a very cost-effective solution for e-commerce platforms that too without making you compromise on the quality. In fact, you won't find a better solution when it comes to creating an e-commerce site. This has been proved well by these points.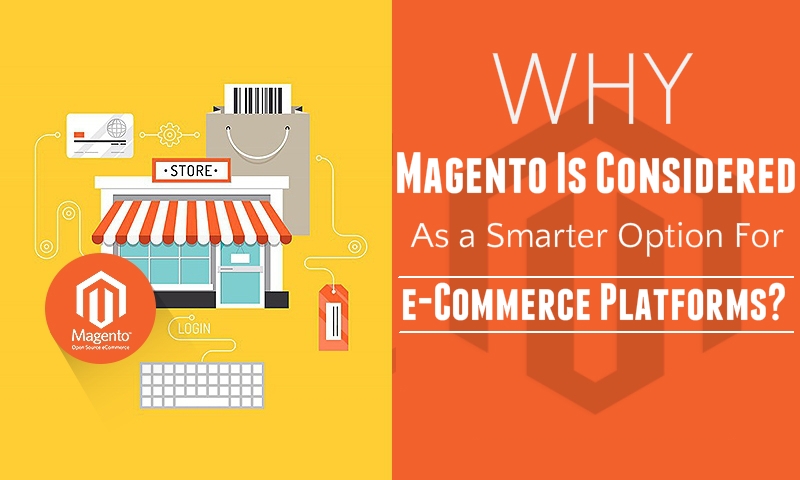 Website flexibility with open source coding: If you are looking for a flexible solution for your e-commerce site, there is no better option like the open-source platform of Magento. You can easily give your online store the much needed extra kick just by making use of the rich features of the Magento for the e-commerce platform. You can work on the platform without having to face any limitations. Better hire dedicated Magento developer to get this task done.
Development cost of present project reduced: With this open source platform, you can easily optimize the ads as well as improve the ranking of the website on the search engines. Moreover, Magento being an open source, you are saved from spending less as the development costs. So you will be able to develop a website that is easy to work on and navigate, for your customers.
Developing a mobile platform is eased: You can easily make use of the Magento features to create a mobile platform. For this, you don't have to be a mobile platform expertise. As all the features are readily available, anyone can make use of it very easily. Some of the features like order reporting, marketing tools, SEO, etc. makes it very easy to develop the mobile e-commerce website.
Features to increase traffic and boost revenue: Now it is possible to increase sales by driving traffic to the website using the features of Magento. The easy to navigate Magento store will help your audience to move around on the website and find what they are looking for. You can easily customize your online shopping portal by making use of the features like easy to navigation, better functioning shopping cart, etc. You can even create a catchy and attractive front end for your website by making use of graphics, designs and colours, along with logos.
Theme conversion simplified with PSD Slicing: Now you can easily convert themes from PSD to Magento very easily. So your store will look consistent throughout all the platforms. Magento optimizes PSD Slicing and thus makes theme conversion easy. So let simply put it this way – the way the PSD files are sliced will determine will your online site win or fail in the online business game.
Different payment gateways: With Magento, your online store can have different payment gateways. The different options which you can use to accept money are credit cards, debit cards, PayPal, and internet banking.
Navigation tools to optimize site: A website clicks among its customers only when it has a simplified navigation system. In case your customer failed to find what they want on your website because of a complicated navigation system, they will easily move to your competitor's website. With Magento, you don't have to worry as it provides an easy navigation method from selecting products to checkout.
Moreover, with Magento you can create micro-sites to attract more customers from your target market. This has been made possible by the multi-store retailing functionality of Magento. The micro-sites can be created at a lesser price thus making it a money-effective option.
So whether you are planning to build up your website or hire someone, just make use of Magento platform for e-commerce . It is the perfect solution for your business. So create an amazing website and start making revenue out of it.