Fireworks have always been associated with spectacular events and holiday fun. Firecrackers and rockets have been used to thrill people in China for thousands of years and they still continue to excite spectators today. This is a primary reason why various communities all throughout the nation of Canada sponsor firework shows during special days of the year. Big holidays such as Canada Day or Victoria Day are two important holidays where extravagant firework celebrations are put on display for hundreds of thousands of viewers to see.
Firecrackers are a common type of pyrotechnic device that is sold to consumers. Firecrackers are miniaturized explosives that produce a lot of noise and a small flash. They come in a variety of sizes, but most are not sold over a certain length due to legal restrictions and more importantly for safety reasons. Most firecrackers typically have a small wick, or fuse, that a person must light with a flame. Once the fuse is lit, the firecracker will create a tiny explosion that is guaranteed to thrill and excite bystanders.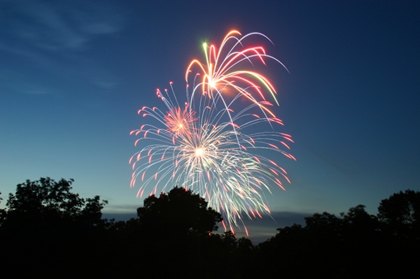 Sparklers are another popular firework device that people use during some festive celebrations. Sparklers are hand held fountains that burn from top to bottom, shooting off sparks. Most sparklers are colored gold or silver; but there are some that have a red and/or green flame. Most sparklers will take between 5 and 10 seconds to burn. The Roman candle is a single tube that shoots off many different coloured exploding shells that create a mini firework display when they explode. The colours of the shells vary by manufacturer, but some of the most common colours are red, green, blue, white and yellow. Smoke bombs are designed to create a coloured smoke effect. They can be used to make yellow, green, blue, white, orange and blue coloured smoke effects. These devices have a fuse and after a person lights the fuse, the smoke bomb will generate the desired colour effect. Click here to read more about these amazing products.
Rockets are a firework that blast into the sky to create a miniaturized explosive effect in the air. They can be manufactured to create certain effects such as a crackle or a star. Rockets are designed with a long stick attached to an explosive shell with a fuse. Rockets that have a fuse that is one-foot or less are called bottle rockets and anything that is over one-foot is called a sky rocket. Fountains, wheels and mortar shells are other types of fireworks that each produces different types of effects that resemble a fountain or an exploding firework. You can find great discounts and specials at http://www.rocketfireworks.ca/specials.html.
Consumers should remember that they can buy a firework device for their holiday celebrations without spending a fortune. Paying for a pack of fireworks is not that expensive if you know where to look. These products should be bought from a licensed firework store to ensure that all fireworks are legal and safe. Consumers should take great care to use their pyrotechnic products in an open area away from residential homes and commercial buildings. Firework products are fun, exciting and entertaining for families and children when they're used in a safe and responsible manner.