Jaisalmer, the city of vibrant culture and colors in the Great Indian Desert Camps in Jaisalmer, Rajasthan, captivates the vacationers compelling them to make a visit yet again. The breath taking sunset views from Bada bagh or even the terrace of the restaurant talks of that rich culture and heritage that is still hidden in the monumental remains of the fort and the various havelis in the city.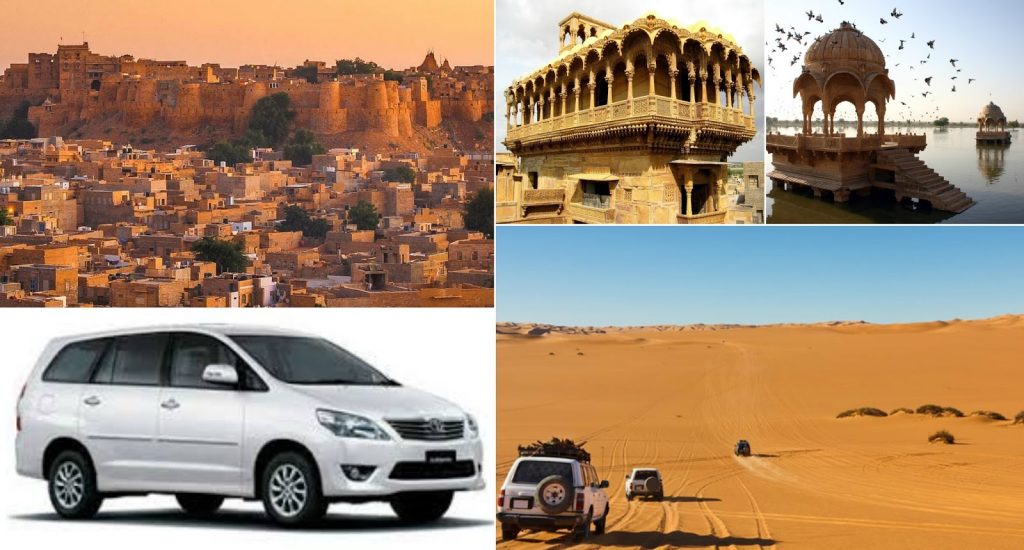 A round the city visit of Jaisalmer becomes a must for the first time visitors. Jaisalmer presents many such places like the forts and the havelis in and around the place that keep the tourists spellbound under the rich technical and architectural skills displayed on the walls.
Sight Seeing with Royal Taxi Cabs
Royal Taxi cabs provides the Jaisalmer packages that can be availed by the tourists and visitors at appropriate rates. It also provides the Jodhpur to Jaisalmer taxi services that the tourists can gain from.  
Places to be seen in Jaisalmer:
Jaisalmer Fort: it is one of the largest in the world. It is also known as Sonar Qila.
Patwon ki Haveli: It is a cluster of five small havelis. It took almost 55 years to be built.
Salim singh ki haveli: The peacock shaped arched roof of the haveli is worth seeing. A part of the haveli is still occupied.
Bada bagh: Situated at a distance of 6 kms away from Jaisalmer, the place is an attraction to the tourists because of its Royal heritage buried in it.
Sam Sand Dunes: the sand dunes are to be seen by every visitor coming to Jaisalmer. The rolling mounds of fine sand covering a vast area around the place magnetize one to the landscape.
Jain Temples: The 12th century Jain temples with the Jaisalmer fort are the religious attraction to the place. The carvings and architecture are striking.
Sightseeing in Jaisalmer becomes all the more thrilling and comfortable with the Royal Taxi Cabs. Head quartered at Jaipur, the cab services provided by the operator intend to provide quality services and comfort to the customers. The pick up at the doorstep services are also unique.
Booking the taxi is simple. It is just a call away. However, you may as well book a taxi online at the website or post an enquiry at the website for the same purpose. Our executives will get back to you with suggestions about the packages and availabilities.