Living in a lovely, perfect family home that is full of nice things to both use and also look at is something that most of us aspire to at some point in our lives, with the first home that we buy opening up a whole new world in terms of the kind of decoration we can implement on the property, through to the interior furnishings and furniture that we can splash out to make our home a place to enjoy living.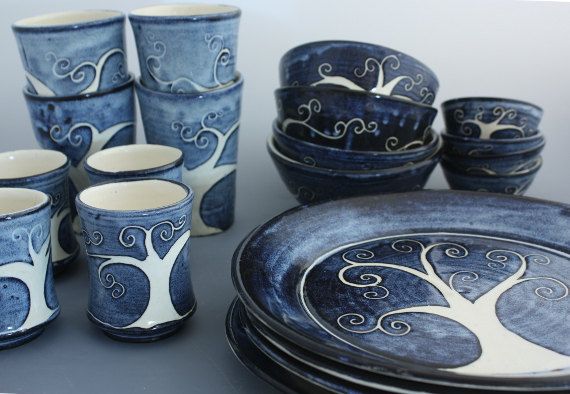 For most of us, the first time we get the keys to our first property that we actually own, rather than share or rent, is a simply magical time, with thousands of thoughts running through our minds about what we want to do and what we can do to make this a really dream place to live in. Of course, budgets often come into play, but if money were no object then there is no doubt that we would probably all opt for quality products, rather than just the ones that we can afford or can "make do" with.
If you are going to spend money on a decent table for your family to sit around and enjoy their meals at, then it also makes perfect sense to finish this off with a quality dinner set, usually unique, styled and something that looks amazing and beautiful. Whilst this might not be the dinner set that you use all year round for every meal and every occasion, it can often be THE dinner set that you bring out at very special occasions, like at Christmas, for Birthdays or when you have all the family around and require something that not only looks stunning, but is also useable and has enough pieces to cater for everyone.
Dinner sets can be anywhere from a few pieces through to the full 68 pieces (or more), with plates, side plates, dishes and many more items making up the complete collection, meaning that the days of mismatching the cutlery just to get enough on the table to feed your family or your guests could well and truly be over. Having something that matches is often really important for most owners, as over the years items get lost, break or become unusable, so it is nice to have something that is complete, matches and looks the part, with the feel of quality and yet available at an affordable prices.
There are many high end tableware retailers, including John Lewis, Marks And Spencer and House of Fraser, but you should never forget the smaller and more independent brands like Eternity Home, who offer a simply fantastic product, but is generally unique and you know you will be buying something that is special. Whether you decide to go with a large retailer, big brand or a smaller company, cost is obviously going to be a factor in your decision, but you do have to remember that when you spend a bit more on a quality product, it is usually going to last longer and therefore you do not end up spending small amounts more often to replace the product.
We have probably all been in the situation where we have purchased a cheap dinner set, and after a few dish washes and uses it has lost some colour or has ended up with scratches, which is why buying better quality goods is often more affordable long term, because they will last longer and are usually made with better materials. A cheaper dinner set is usually a good idea to own as well, allowing you to use this all year round, when the occasion is maybe not so special that requires your full offering on display.
So, if you have spent a lot of money on your new oak table and dining chairs, do not forget to try and find the perfect tableware collection to finish things off, as there is nothing better than the full spread on a special occasion!