Congratulations! You have taken the first step in securing your family's future security and comfort by deciding to buy a new home for them! This is a major investment, so you would naturally have a lot of questions. This is your guide when buying a new home for your family!
1.

The Current Picture and the Big Picture:
When buying a new home, it is tempting to just go in for the first home on the market that suits your present needs and your budget. However, it would be wise to look at the big picture too. Do you see yourself living the next 10 or 20 years in the same home? If yes, then wouldn't you want to factor in future needs as well, such as a growing family, perhaps? Choosing the right home that fits your needs is one of the most important factors when buying a new home. If you are considering purchasing what is commonly called a "fixer upper" to reduce your purchase price, you also have to factor in the additional costs involved in renovating it to suit your needs.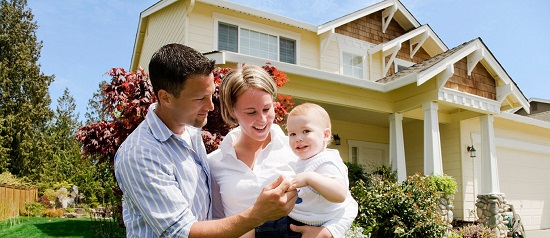 2. Consider the neighborhood and proximity to work and educational areas. This will save you a lot of stress involved in commuting to work or school and college. Also consider proximity to hospitals and essential shopping areas. What are your priorities in this regard? Is living in a low-crime area more important to you than being in a high-entertainment area? Think carefully about all these factors when buying a new home for your family.
3. Try to save as much as possible for the deposit so that you get a better home mortgage package. This will also protect you from any drop in property value.
4. It would be a good idea to go house hunting along with someone who is experienced in this and is already a house owner. This could be a parent, a friend of your parent, or even your own friend. This will help you a lot when making the final negotiations on the property.
5. If you have a real estate agent, make a list of questions to ask her/him which includes things like:
Reasons for selling the property.
Duration of time the property was on the market.
If any previous offers were made and withdrawn, why?
When will the present owners move to their new place?
What is included in the property and what is not?
6. Keep in mind other expenses, other than the purchase price, when budgeting for your dream home. Depending on where you live, there will be variations on this, but the general ones are stamp duty, home insurance, VAT, insurance, solicitor's fees, real estate agent's commission, moving costs, furnishings, furniture, etc.
7. Get a chartered surveyor to make sure of the structural stability of the building before you buy it.
8. Find out first hand from the bank or lender how much mortgage you are eligible for. This might sometimes be in variance with what you think you qualify for, so it is better to leave the guesswork out of this.
Thank you for reading this article about buying a new home for your family. This article was brought to you by OBCbuilding. OBC is a registered building company in the Bromley, UK. The guys from OBCbuilding have been in the building trade for the last 30 years. You can contact OBC by visiting the following link – http://www.obcbuilding.co.uk/contact-obc