For home owners keeping carpets looking and smelling like new is often challenging. Especially when you live a busy life with children and pets, you carpet is subjected to a lot of stains and pet hair and can over time start to look less than perfect. That is why it is important to keep on top of your carpet cleaning to prolong the life of your carpet. There are so many products and machines out there than you can use to clean your homes carpets. But some can do more damage than good, so it is best to call in a professional like Endeavour Property Services who are experts in carpet cleaning in Auckland. But there are some simple things to keep in mind to ensure your carpets look and smell at their best.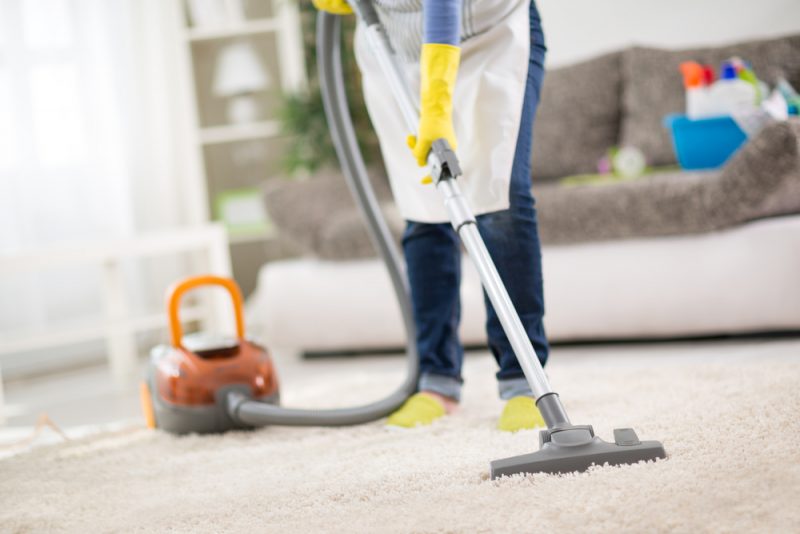 No Shoes
One simple thing that you should always remember when you have carpets in your home, is to make sure everybody removes their shoes before entering your home. This makes it much easier to keep carpets clean as you will lessen the risk of dirt, grease and petrol getting trampled into your carpets. As your shoes pick up petrol, grease and even gum from the street and pavement throughout the day. By putting in place a firm "no shoes" policy in your home, you are much less likely to have stains on your carpet.
Vacuum Regularly
Regular vacuuming is a simple way to keep your carpets stay clean and fresh for longer. It is important to clean carpets at least three times a week, as through doing this you can pick up dirt and dust before it gets heavily trampled deep into the carpet.  Although it is important to go slow when vacuuming to ensure you evenly cover all spots, especially high traffic areas. The higher the foot traffic in an area of your home, the slower you should vacuum, as high traffic areas will have dirt deeper in the pile of the carpet. 
Protect Your Carpet
It is also good practice to from when you first install your carpet use a carpet protection spray. These sprays are useful in repelling spills, resisting soiling, and blocking stains by forcing liquids up to the surface for easy clean-up. These sprays need to be reapplied every year, so it is good to do this after your yearly professional deep carpet clean. But it is important to check the manufacturers recommendations before using any product on your carpet, or spot test the product in an inconspicuous area. As different carpets are made from different materials and some may not work well with these products.
Rugs
Rugs are a great way to keep you carpet looking as good as new. You can strategically place rugs and carpet runners in high traffic areas in your home such as by the front door. This will lessen the wear and tear on the carpet in these areas making your carpets last for longer. 
Vacuum with Air Filter
When buying a vacuum cleaner, it is best to choose one with a HEPA filter on it. HEPA filters are able to trap small dust and bacteria from exiting the vacuum after it's sucked up, meaning that it won't end up back on your carpet again. These filters are especially useful if you have pets or family members who suffer from asthma or allergies. 
Clean Spills Immediately
One thing that is often forgotten when it comes to carpet cleaning is the importance of cleaning up spills as soon as possible. As the longer you leave it the harder they are to remove. For best results
Trim Snags
Carpets are prone to snags especially if you have kids or pets, but it is important that you never pull on snagged of loose carpet fibres as this will make the issue worth. It can even cause the carpet to pull away from the floor. The best way to deal with snags in carpet is to instead, use scissors and trim the snag as close to the floor as possible to prevent any more pulling.
Deep Clean Regularly
It is always a good idea to get your carpets deep cleaned by a professional carpet cleaner at least once a year.  This helps to remove any trapped dirt and dust that normal vacuumed fails to remove. Deep carpet cleans are also great for deodorising carpet, as they often use scented shampoos.
Use Natural Deodorisers
It can often be a challenge to keep carpets smelling fresh, especially if you have children and pets. You have many cleaning products that you can choose among and you can easily make a deodorizer at home. The easiest natural deodoriser is baking soda, and this can be sprinkled on the carpet and then left for an hour before thoroughly vacuuming it off. This is a great was to neutralise common carpet odours.
Proper Ventilation
Another important thing to consider when you have carpet in your home. Proper ventilation is the first and the most important rule, especially if you have a person smoking or pets inside the house. Though keeping good ventilation, it will help you get rid of bad smells, stopping them from getting trapped in the carpet. Good ventilation also is good at regulating the humidity in your home. You can get better ventilation through using a heat pump or dehumidifier. As humidity build up in your home can cause carpets to become damp and get mould and mildew.