Special Edition cars are exciting and there is a fantastic special edition car on offer called Swift Deca. This is the special edition Swift and it was showcased in grand style at the 2016 Auto Expo. The Swift Deca is sold in mid-spec variants of Swift, the VDi diesel car costs Rs 6.86 lakh and the VXi petrol car is priced at Rs 5.94 lakhs.
Swift Deca is a truly Special Edition car, and it looks incredibly funky, exquisite and sporty and this is certainly a signature launch. The car is on sale, and for those who are super excited by the thought of buying a Swift Deca car, take note of these features and get ready to feel completely mesmerized.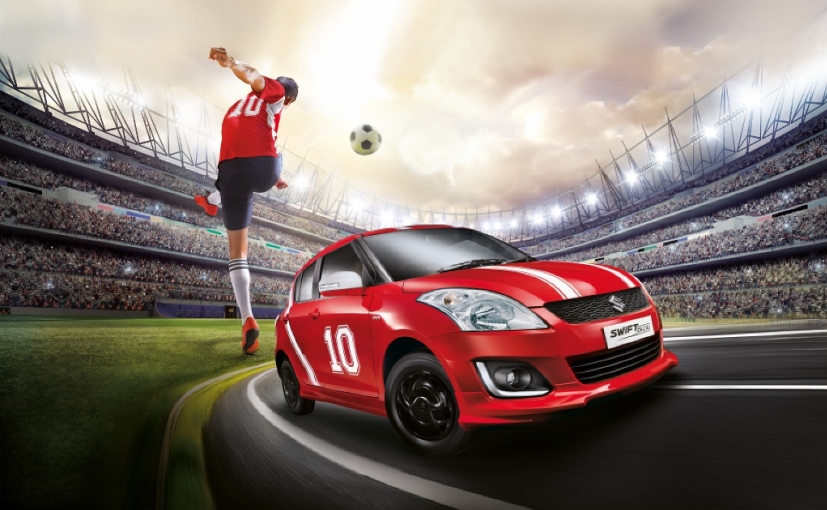 Awesome features of Deca, which is a Special Edition Swift car:
The vehicle looks cool on the inside, and it has a stunning and sporty black and red upholstery, faux carbon fiber highlights, ambient lighting, floor mats, steering wheel cover, door sills and central armrest.
There are reverse parking sensors and door mounted speakers, and also look out for the world-class Sony touchscreen infotainment system and it is connected to reverse parking camera. The car has rear, side and front skirts and rear spoiler. The most significant feature of Deca is body graphics and you can clearly view strips on roof, sides, boot and bonnet and on the front door you can view number 10 decals.
Swift Deca is engineered with an efficient 1.3-liter diesel and 1.2-liter petrol engine and both these power-trains are present in the current Swift car. The diesel car generates robust energies of 190Nm and 75PS and the petrol car gives 115Nm and 84.3PS, and the two engines are linked to 5-speed manual gearbox.
Swift is a popular car of Maruti Suzuki ever since first inception in 2005, but lately the demand for the car has reduced drastically. The reason for the drastic reduction in sales is due to the introduction of premium hatchback Baleno sold at the posh Nexa showroom. Now Maruti Suzuki is aiming at maintaining the demand and desirability of Swift, evident from the launch of Swift Deca.
Deca is a distinctive Swift Special Edition car, and it looks awesomely sporty and classy. Very rarely will one get to buy the Deca Swift covered in stunning graphics with a number 10 on the side. Such an aesthetic design creation, only makes sporty car enthusiasts super excited, and like the exterior, the interior too is one of a kind. You will notice funky red on steering wheel, pedals and seats, and customers can actually get to drive a car covered in vibrant black and jazzy red. It does sound unbelievable and how often does a person get to drive such a car? Interestingly the carpet is covered in a vivid red layer.
Take a note of these intriguing features on Swift Deca, the car has single stripe on rear door and C-pillar, Deca edition side skirts, and wheel covers decorated with a supreme black color. The car is sold in two funky and pulsating colors, Pearl White and Bright Red. Step inside the car and you will get to experience a totally different atmosphere, the seats are covered in fine red and black color along with shades of white. This car is loaded with mind-blowing features, there is a reverse parking assist with camera, 6-inch Sony door fitted speakers, and marvelous Sony multimedia touchscreen audio system with external mic and Bluetooth, and front arm rest.
Ever since Maruti Baleno premium hatchback has come into the market, the popularity of Swift has only reduced. Now Maruti Suzuki has incorporated a more creative tactic to re-build the popularity of Swift with Deca. The Maruti Swift Deca limited edition is a double delight and this car is a sight of attraction for people who yearn to explore uniqueness and also for individuals who are into thrilling sport like football.
The Executive Director in the Sales and Marketing department of Maruti Suzuki, Mr R S Kalsi commented on the Swift Deca and said, ''Swift is a sporty, fashionable and exhilarating car to drive in. Since introduction, the car has been a segment leader, and over the years, Swift has transformed into becoming a better model with regard to technology, exterior style statement and features. These factors match the taste of Indian consumer preferences, and now the Swift Deca is a stylish Swift covered in awesome sportiness and supreme performance.''
The Swift Deca VXi (O) is priced higher than the regular variant by Rs 22,555, and the VDi Deca is sold with an additional pricing of Rs 30,319 compared to the VDi (O) variant. What is even more exciting is customers can benefit Rs 18,000 from accessory kit.
Maruti Swift Deca is an exclusive car, and this is certainly the most spectacular looking Special Edition car to ever launch. To create a one of a kind special effect Maruti Suzuki has engineered the car to look incredibly sporty. The funky red model has amazing white graphics and the number 10 on the side, is so unique and exciting compared to any other special edition car.
The interior of Swift Deca is marvelous, and it is just awe-inspiring for consumers who are keen on exploring varied and cool interiors. There is no better feeling than to sit inside a car with a super black décor and funky red decorating on steering wheel, seats, pedal and carpets. For those who are keen on buying this car, book your dream come true vehicle now, and Swift Deca is the perfect car for people who are energetic, enthusiastic and who likes anything funky. Swift Deca is certainly an inspiration for other rival car manufacturers, and we can expect another of such a kind from maybe Hyundai, known to be the biggest rival of Maruti Suzuki.
For now, buy the Swift Deca and enjoy the car to the fullest with family and a bunch of friends and this is one of the most special cars to own.